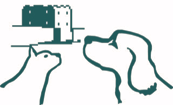 Ashlea Veterinary Centre Ltd
Photon Surgical Systems provided Cat Spay and Bitch Spay kits to Ashlea Veterinary Centre for their 2-day trip to a shelter in Egypt where they managed to neuter 3 male dogs and 21 bitches. The conditions where challenging with only having one operating light!
The staff all enjoyed the experience and were very glad to have had the kits as the shelters old human interments would not have been up for the job.
"The staff were delighted with the kits we left so many thanks for your generous discount on purchase." Kirsty Barker, Ashlea Vets